Home
About Us
Yorkie Shoppe
Looking for Love
How You Can Help
Forever Ours
In Memoriam Page
Happy Tails
Thank You
Rainbow Bridge
Board of Directors
F.A.Q.
Volunteer Application
Non-Fostering Volunteer Application
Adoption Application
Request to Surrender
Links
Videos & Slideshows
Counter
3684540
RAINBOW BRIDGE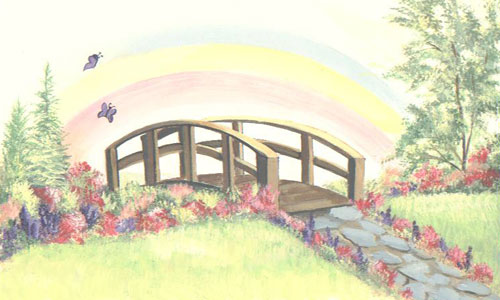 The Rainbow Bridge
Just this side of heaven is a place called Rainbow Bridge.
When an animal dies that has been especially close to someone here, that pet goes to Rainbow Bridge. There are meadows and hills for all of our special friends so they can run and play together. There is plenty of food, water and sunshine, and our friends are warm and comfortable.
All the animals who had been ill and old are restored to health and vigor. Those who were hurt or maimed are made whole and strong again, just as we remember them in our dreams of days and times gone by. The animals are happy and content, except for one small thing; they each miss someone very special to them, who had to be left behind.
They all run and play together, but the day comes when one suddenly stops and looks into the distance. His bright eyes are intent. His eager body quivers. Suddenly he begins to run from the group, flying over the green grass, his legs carrying him faster and faster.
You have been spotted, and when you and your special friend finally meet, you cling together in joyous reunion, never to be parted again. The happy kisses rain upon your face; your hands again caress the beloved head, and you look once more into the trusting eyes of your pet, so long gone from your life but never absent from your heart.
Then you cross Rainbow Bridge together....
Author unknown...

AJ


AJ

3/30/16 Today sweet AJ went to the Bridge after losing his battle with end-stage renal failure. This is what his foster mom had to say.

In January of this year, we were asked by the Maltese Rescue of California if we could take AJ in. We agreed and he became my foster baby. AJ was blind and 15 years old. His owner dumped him at a high kill shelter back in September, one day after his 15th birthday. He said that he was getting too old. When we did a senior panel on him he was diagnosed with beginning stage renal disease.

AJ did really well at first and I was hopeful I would get to spend at least another year with him but suddenly he wasn't doing so well. He came down with a UTI and although he was treated, he never fully recovered afterwards. We have been in and out of the vet ever since. He got iv fluids at the office, did better and we decided to put him on sub Q fluids at home. When I came home yesterday afternoon I noticed that he was very lethargic as I held him and cuddled with him. He refused all food, only drank water. I knew he was going to leave me. He slept in my arm for most of the night. When I took him to the vet this morning we made the difficult decision to let him go and help him to cross over the Bridge. He was in my arm, cuddled in his Payer Blanket when he took his last breath. I told him how much I loved him and how much I will miss him. I held him for a very long time after he was gone. Eventually I had to let go. RIP my "Little Old Man" as I called you. You are taking a peace of my heart. I love you so much and always will. You will never be forgotten.

I am so happy for the time I was able to spend with AJ. I wish he would have come to me sooner. He was the sweetest little dog I have ever known.
Top of page
Jamie

3/30/2016

Little Jamie became suddenly very ill yesterday and was taken to the ER by her foster Mom. Jamie was diagnosed with severe bacterial gastroenteritis and protein losing gastroenteropathy. We tried to get her through this but sadly little Jamie's system was too weak to fight and she kept losing ground. With much sadness we had to help Jamie cross the bridge early this morning. She passed peacefully in the loving arms of her foster mom and has now been released from her suffering.

Her foster Mom had this to say about Jamie's passing. At 6:35am Little Jamie crossed the Rainbow Bridge. I caught a glimpse of a fuzzy tail and she sprinted across. Hope that squirrel made it to the tree. As I drove home I could hear her happily barking and I knew she was fine. Thank you for all of your prayers as they carried her safely home.❤️
Top of page
Opal

3/22/16 Sadly little Opal crossed the Rainbow Bridge early this morning. She stopped eating and was taken to the vet where an xray showed she had lung issues. She was rushed to the ER where it was determined she had pneumonia. She was begun on fluids, antibiotics and kept in an oxygen cage, but she succumbed early this morning from her infection. Rest in Peace precious Opal. Your foster mom loved you briefly but very much.
Top of page

Coco

Coco

3/14/16 Coco began having seizures and refused to eat much. She received phenobarbital to help with the seizures and foster mom was feeding her whatever she would take from her hand, but Coco's appetite was failing. Coco passed away at 10:45 PM on March 14th in the arms of her foster mom as she was giving her nightly kisses. Coco will forever be in the hearts of her first foster mom and her final foster mom and dad. She is finally free from the cancer that was spreading in her body. Rest in Peace little Coco.
Top of page

Buddy with his blanket

Buddy

On March 8, 2016 I lost the best little boy that could ever have entered my life. I adopted him from UYR in January 2004 and had 12 wonderful years with him. He was more than a companion animal...he was my 4-legged friend who knew what I was thinking and was always there to comfort me. He succumbed to chronic pancreatitis which became difficult to manage with his diabetes. Finally, with failing kidneys, he couldn't survive without being on IV fluids. I brought him home from the hospital so we could spend some loving time together before I had to make that last visit to my vet. I will love him always and never forget his sweet kisses and his eyes which were windows into his soul. RIP my Buddy...till we meet again.
Top of page

Rest in Peace Chance

Chance

Updated Bio 2/28/2016

It is with a very heavy heart that I must share that poor Chance lost his battle with end stage kidney disease early this morning. He fought hard but in the end he simply could not pull out of his downward spiral. He was with us a short time but thanks to his foster family and all of his supporters sweet senior Chance received the very best care and was surrounding by love during his final days. Rest in peace sweet Chance and run free and whole across the Rainbow Bridge.

Thank You again to all of those who supported him with donations and prayers. It was not for naught. Even though we lost our battle for Chance, sadly we can still use help covering the cost of his ICU care. If you wish to help honor Chance's life by helping us pay for his care we will leave his fund raiser open for several more days. You can access it here https://www.youcaring.com/chance-528828
Top of page

Henri

Henri

2/7/16 Last night our Forever Ours boy Henri passed away peacefully in his sleep. He had shown no sign of being sick, he ate his dinner with his usual enthusiasm last night and slept next to his best buddy.

Joel and I are so blessed for the time that we had with him. He was such a joy, very much loved and will be missed.
Top of page

Vanessa

Vanessa with Minnie and Buddy

Vanessa

On February 3, 2016 I said goodbye to my precious Vanessa who was with me since August 2011 and who despite all her illness was the best girl ever. I know I did my best to give her a good life and loved her more than anyone possibly could. Rest in peace Vanessa and run free and healthy again. You will always be in my heart.
Top of page

Cleo

Cleo

Sadly on 1/27/16, sweet Cleo had to be helped to the Bridge. Her kidneys declined quite rapidly and although she might have been hospitalized for fluids and support, the remedy would have been very short lived and she would be back in the hospital. Her little body was giving up the fight, so to save her suffering, her foster mom helped her to the Bridge today. Her foster mom was honored to give Cleo a home and so much love the last 10 months of her life, and Cleo won the hearts of everyone who met her during her time with UYR with her fighting spirit and spunky personality. Run free little Cleo and be healthy once again.
Top of page

Nora


Nora

On 1/15/14 precious Nora came into my life, very sick and barely alive. Nora had spent the first 10+ years of her life in a puppy mill. She fought kidney disease, a heart murmur, loss of her left eye, arthritis and about 6 months ago became deaf and blind. I carried her around most of the time after that. She was the light in my life…imagine all those issues and she always had plenty of kisses and love to give me. She was always happy when I or anyone picked her up; she was a lap dog, she slept with me under the covers; I don't know how she could breathe but she had to be as close to me as she could get. Her arthritis in her left front leg was so bad that she would hop and run on 3 legs. She loved laying in the sunlight and my 9 year old grandson Jaden claimed her as his favorite of all my dogs and she knew it. Nora was known to my daughter as Nora Noodle and everyone loved her. On 1/15/16 exactly 2 years from the day I picked her up in Jacksonville, I helped to cross the Rainbow Bridge. She passed quietly and peacefully in my arms, with her Auntie Judy by our side to help us get thru.

She leaves a huge whole in my heart and a deafening silence in my life, but it's hard to imagine a small little 3 pound ball of fire could have had such an impact on so many. RIP my Nora, I will always love you.
Top of page

Zeus and Baby

Zeus

Zeus 12/24/15 RIP Zeus was a tough little warrior. When he came to us his first vet visit ended with a diagnosis of a severe collapsed trachea, and his prognosis was not very good. But he showed everyone how strong he was. He beat the odds for over a year. During that time he elicited many smiles and happy faces from people who got to know him. He was definitely a Mama's boy and will be sadly missed by his Foster Family and Brother, Bubba. Zeus crossed over the Rainbow Bridge at the age of 16. RIP little guy. You were very loved.
Top of page
Sweet Pea

8/17/15 Sweet Pea was just like her name. Very sweet. She was 12 years old and weighed not quite 5 pounds when she came into rescue. During the time of her foster care, she had difficulty gaining and retaining weight and she died suddenly before we could identify what was wrong. We miss this little sweetheart and know she is happy and healthy at the Rainbow Bridge.
Top of page

Gibbs

Gibbs

On 6/24/15 Gibbs had surgery to repair the fistula that was linking his bladder and bowel. The doctors felt all was successful and he was recovering, however on 6/27, the doctors noticed Gibbs incision was leaking stool. Evidently his sutures failed and although we were prepared to do another surgery to repair it, he declined very rapidly. Sadly the only thing we could do was help him to the Rainbow Bridge. Gibbs' foster mom held him, so he knew to the end, he was very much loved. Gibbs, we will never ever forget you. So many people were praying for your recovery so that you could go on and have a wonderful, happy and healthy life. But God had other plans and needed another four-legged little yorkie in Heaven, and He chose You, Little Man.

God Speed, Gibbs...............
Top of page

Bailey

Bailey

Update 6/12/15 Bailey was seen today because he hadn't been eating well for the past day or so. He was due for a dental so his foster mom brought him to the vet for an exam prior to his surgery.

The vet had a difficult time opening Bailey's mouth. She had to place an IV catheter and sedate him prior to exam. Sadly, upon examination, the vet found that Bailey has many lobular lesions in the back of his throat that extended from his teeth down to his trachea. In fact, the veterinary technician had a difficult time placing a breathing tube. The mass is so extensive and delicate that taking a sample of it would cause bleeding into his airway. The vet believes this is a squamous cell carcinoma. It cannot be removed due to the extensive size and location. She says that even with steroids, Bailey probably has less than two weeks to live. Poor little Bailey's quality of life diminished so quickly and he was in such pain, we had to make the decision to let him go to the bridge. His foster mom and dad were with him at the time so he knew he was a loved little boy to the end.
Top of page
Little Peanut

5/14/15 It is with a broken heart that I have to share the news of Little Peanut's passing. Little Peanut came to United Yorkie Rescue for a loving home with one other fur-brother who loved to play. During their play, Little Peanut fell off of a low ramp and fractured his leg. Because they wanted him to have the best possible chance for having a healthy pain-free life, his family contacted UYR for help. When I first met Little Peanut, I instantly fell in love with his cute little face. After a trip to the vet for a splint and perfect blood levels, we were finally headed home. By the time we got there, he had wiggled his way on to my lap where he spent the rest of the night. We had a wonderful Mother's Day where Peanut gave everyone kisses! I dropped him off early on Wednesday and heard later that he was scheduled for surgery later in the day. The report was that surgery went well and he should be ready to go home the next day. Supposedly he was doing well... Then something went wrong. I got a call early afternoon that They discovered Peanut dead in his cage. I didn't think my heart could break as much as it did with that message. The day was a very difficult one for my family as we began to mourn the loss of a tiny dog that had already meant so much to us. Please give your fur-baby an extra hug in memory of Peanut. He will forever be missed.
Top of page

Chance

Chance

Updated bio 5/4/15. It is with a broken heart we have to share that we just learned Chance has crossed over the Rainbow Bridge. He died this afternoon at about 5:00. He put up a good fight for such a little fellow and gave it his best shot, but the deadly parvovirus was just too much for him.

United Yorkie Rescue wants to thank everyone who donated towards his care. And although he didn't make it his vet bills will total over $1,000.

With tears in our eyes and sadness in our hearts we can only say, Rest in Peace little Chance.
Top of page

Maggie Mae

Maggie Mae

Sadly on March 28, 2015 Maggie Mae went gently to the Bridge; her foster mom said she licked her hand before she drifted off.....no doubt thanking foster mom for helping her to no longer have pain and suffering. Maggie came to UYR with a history of seizures. Many small dogs have seizures which we began to manage with medication. HOWEVER Maggie Mae developed sudden onset of complete blindness, constant circling behavior and extreme anxiety. The anti-seizure medication was no longer working and Maggie Mae's condition was declining rapidly. We had to make the difficult decision to help her out of this misery.

THANK YOU TO MAGGIE MAE'S RESCUE ANGELS!

Jan Freeman, Barbara Carvalho, Nancy Alonzo, Brenda Hutto, Biljana Cosic, Lynne Turner, Robin Nyberg, Terri Hoss, Lauren West, Tammy Brown, Mary Cooper, DeAnn Deutsch, Jane St. John, Patricia Donovan, Charlene Dougan, Christeen McMahon, Amy Chernault, Ilene Rand Jessica Lundquist, John Sauser, Linda Rowley, Sherry Warren, Cheryl Scrupski, Jan Clasen, Karry Rogers, Nicole Kontaxis, Sandy Pagnotta, Irene and Peter Havas, Colleen Thompson, Nellie Volf, Sheila Landis, Erik Ebert, Patricia Bain, Courtney Hurlburt, Karry Rogers, Alicia Bronner
Top of page

Mac

Mac

Mac

August 24, 2003 - February 13, 2015

I can clearly remember the day as if it was yesterday when I found Mac on the UYR website for Texas. I saw the look on his face in his picture and knew he was the one. It was Love at first sight, for both Mac and I. When meeting him for the first time, Mac was the only Yorkie running around with a baby (toy) in his mouth. After adopting Mac and bringing him to his forever home we all discovered Mac had such a Wonderful and Loving Personality. He always loved his babies, loved looking in the grocery bags looking for new babies (toys), flinging babies onto entertainment center, running around with a leash in his mouth just because he could. He loved his truck rides with his head out the window, and beeping the horn occasionally. He had a secret love for the UPS and Mailman chasing their trucks and one day jumping into the Mailman's truck to say hi! He also loved Getting into Grandma's tissue box, spreading the tissues everywhere and so much More! Always Greeting Everyone at the door wagging his nub with a baby and his Beautiful Smile.

He was such a little fighter. He had diabetes and lost his sight and hearing in 2013 and was burdened with other health issues. He never let that bother him. He was a real trooper. He still always knew when we came home. Mac would get up and find his babies and bring them to us still.

Such a Loving Sweet Boy.

Truly One of a Kind!

A True fighter to the end.

I'm sorry you had to leave me. You have left Big Paw Prints on many Hearts.

Thank You for coming into My Life.

You are Truly Missed!

You Will Always Be My Sunshine Mac

My Everything!

You Rescued Me Mac!

I Will Always Love You!

Until We Meet Again My Little Lovie!

A Sincere Thank You to Everyone that Helps to Save all these Beautiful Babies. Rescue On!

Sincerely,

Cheley
Top of page

Chisum

Chisum

Our dear sweet Chisum was helped to the Rainbow Bridge on December 22, 2014. He lived a long and happy life with his Mom, Pop and two furbrothers for 17 years and 8 months. He loved to play ball and be a hockey goalie and go on trips to Yellowstone. He will be missed and loved forever until we meet again at the Rainbow Bridge.
Top of page

Zoe

Zoe

Our beloved Zoe crossed the rainbow bridge on October 29th, 2014. We had fostered her for over 18 months, and we loved her like one of our own. She was the sweetest little girl and loved nothing better than to snuggle beside you whether you were on the couch or in the bed. She was a tiny little girl who was picked up in some apartments by animal control. She was skin and bones, freezing to death, and had a badly infected eye. She was such a little trooper enduring major oral surgery that resulted in having most of her teeth removed, and later having her left eye removed. She gradually lost the sight in her right eye and was totally blind. She had bad gastrointestinal problems, but after trying several different medications and foods, that had subsided. What she struggled with the last 3 months was dementia that seemed to be exacerbated by her blindness. It had gotten to the point she cried all the time unless I was holding her, and the last 3 days she didn't even know who I was, and she was inconsolable. Rest in peace my sweet baby girl. We will never forget you!
Top of page